Mommy Makeover
U.S. board-certified plastic surgeon offers various treatment options
*All the procedures at our clinic are performed by our director who is an U.S. board-certified plastic surgeon and past chief resident at UCLA. For his profile, please visit
this page
.
Repair your skin
You can not use laser treatment or medicated cream etc during pregnancy. On the other hand, at this time, due to rapid weight change and hormonal balance becoming unstable, new stains may be formed on your skin, the skin surface may become rough, pores may become conspicuous. In response to this situation, we will propose a treatment method suitable for you.
Reduction of pores, smooth skin
Before treating pores, we check the hardness and thickness of the surface of the skin. When it is better to rejuvenate the skin surface, we prescribe a cream made in the USA called "Retin A (tretinoin)" (7,500 yen +tax).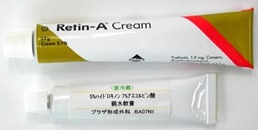 When the surface of the skin becomes soft to some extent, laser treatment can tighten the pores and make the surface slippery (Genesis laser treatment: from 20,000 yen +tax).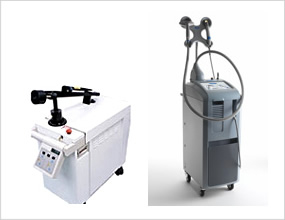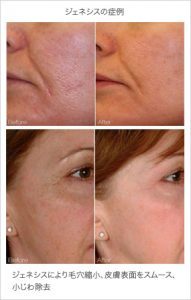 Genesis Laser
Treatment of spots
During pregnancy, there may be new spots on both cheeks that are diffuse (called Melasma), the spots that existed previously may become darker and/or larger. In case of melasma, our clinic first starts treatment with a medicated cream. Thereafter, in some cases, oral medicine may be added. For spots other than melasma, it may be treated with laser.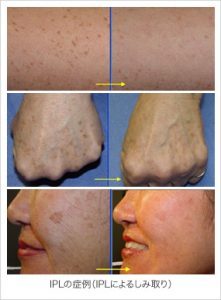 (The laser treatment depends on the size of the spot, but from 10,000 yen (excluding tax)).
Facial wrinkle, treatment of sagging
There are various wrinkles on the face, but when looking at the upper half of the face, wrinkles between the eyebrows, wrinkles on the forehead, wrinkles on the corner of the eyes, etc. can be treated effectively with Botox. However, this treatment will be after nursing has ended.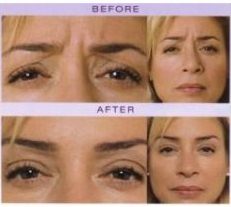 Botox starts from 30,000 yen + tax per area. See more details in our website's nonsurgical tx.
In the lower half of the face there are nasolabial (smile)lines, marionett lines (lines heading from the corner of the mouth to the chin) etc, but due to changes in body weight during pregnancy, it may be more prominent than before pregnancy. If the cheek slack is quite strong, you may apply a laser that tightens your cheeks, or you may inject hyaluronic acid in these places.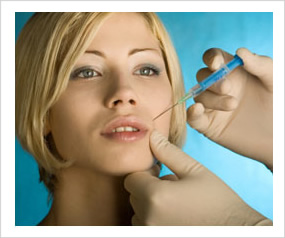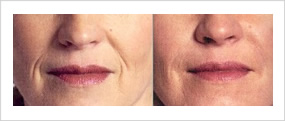 The hyaluronic acid used in our hospital will be Restylane (made by Sweden) or Juvederm (made in France) (from the 50,000 yen + tax) including the doctor's technical fee).
Treatment of spider vein, capillary hemangioma
During pregnancy, spider veins or capillary hemangioma of the lower limbs is likely to occur due to changes in the hormonal environment and increases in abdominal pressure. However, not only the lower limbs but also small red capillaries growing around the body (capillary dilation), often a small red dot called angioma is often formed.
Spider angioma of the lower limbs, capillary dilation
Lower extremity hemangiomas and capillary dilation are treated with laser (from 20,000 yen).



For those with large caliber, sclerotherapy may be performed.
*If you want to use Japanese national insurance, please check this page.
Red dots in the body
In Europe and the United States, it is a benign tumor of capillary vessel called Cherry angioma and it treats with laser (from 10,000 yen).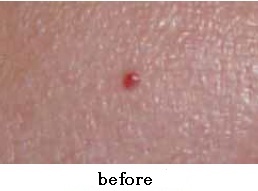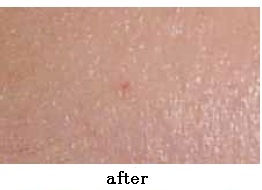 ---
Liposuction
After the childbirth, you may have unwanted fat deposition especially around the stomach. For more details, please check our liposuction page.
Sagging of abdominal skin, stretch marks (striae)
If you do not recover the slack in the abdomen after childbirth, you can treat it with laser equipment with tightening action.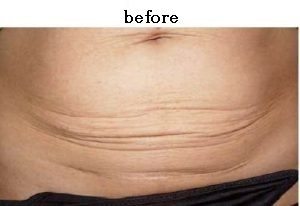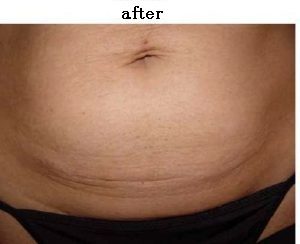 Regarding pregnancy streatch marks (striae), the treatment is different depending on the state of the line (color). For details please contact the clinic.
*If you have more severe sagging of the abdominal skin and fat tissue, you might need Tummy Tuck (mini-, or full-). For more details of such procedures, please visit Tummy Tuck page.
Correction of scar after caesarean section
If you are concerned about the scar after cesarean section, please consult our plastic surgeon. With a proper treatment, widespread scars and raised wounds often can become better in appearacne (more beautiful)than they are now.
Sagging of the breast (ptosis), contraction
As a weight loss after childbirth and a change after breastfeeding, sagging (ptosis) of the breast may be conspicuous. As a method of correcting such a condition, there are cases such as lift surgery which simply eliminates sagging, when using breast augmentation and lift together, or when transplanting fat cells.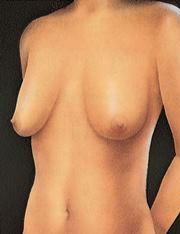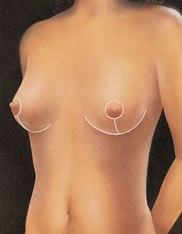 Since the state of each person's breast is different, we recommend that you consult with the doctor directly for details.
(*the real before-after photographs can be seen at the time of consultation)


Secondary breast augmentation
Some patients who had breast augmentation surgery in the past might disire to have another breast augmentation due to breast shape change after nursing, or severe sagging to make corrections. In that case, we recommend to wait more than half a year from the end of lactation, reconfirm the condition and suggest the best method.
Medical laser hair removal
Changes in the hormonal environment during pregnancy and after birth may result in an increase in the amount of body hair than before. Hair reduction/removal process carried out at our clinic provides safe and effective depilation using laser equipment approved by the US FDA. Please see this page for the price and more details.
Placenta injection, IV treatment of nutrient: from 3,000 yen + tax
We prepare injection placenta formulation approved by the Ministry of Health, Labor and Welfare. The placenta injection is obtained from placenta of Japanese newborn infants and is tested for infectious agents such as HIV and hepatitis. It is effective for overall anti-aging, fatigue, menopausal syndrome, younger skin condition (from 3,000 yen +tax).
---
Second Opinion Consultation
Unhappy results from treatment/surgery elsewhere?
Provide pictures from before/after the procedures.
Bring operative reports if available.
You may e-mail your inquiry to our clinic prior to a formal consultation.
Our U.S. Board-Certified plastic surgeon will review and analyze your case, and give you a professional advice.
---