Surgical Procedures
Breast Augmentation
Breast Lift
Breast Implants
Breast Lift in Tokyo Japan
Considering a breast lift in Tokyo Japan by a U.S. board certified plastic surgeon? This board certified plastic surgeon focuses on plastic surgery and cosmetic surgery procedures including breast lifts and other reconstructive surgical procedures.
Patients who desire a breast lift may have noticed loss of skin elasticity, gravity and other factors such as weight loss, pregnancy and breast-feeding ultimately affect the shape and firmness of your breasts. Patients who are generally satisfied with the size of their breasts can have a breast lift to raise and firm them, resulting in a more youthful breast contour. Such factors may boost an individual's confidence, leading them to seek Breast Lift Surgery in Tokyo Japan.
Some patients may be unhappy that they have lost a significant amount of breast volume over time. In such cases, implants inserted in conjunction with a breast lift can increase breast size at the same time as the shape and position of the breasts are enhanced. This not only helps to restore the physical appearance of the patient, but also restores self-confidence and respect to the patient.
A breast lift is a very individualized procedure in which your goals should be realistically determined and discussed with your plastic surgeon. Together you will determine what specific procedures will be performed. A breast lift is often performed in conjunction with other procedures such as breast augmentation. Once your goals have been determined you will set a date for this procedure and will be given instructions about how to prepare.
Incisions
When the date for your breast lift has arrived, you should plan on the surgery taking several hours or more depending on which procedures you are having performed. A common method of lifting the breasts involves three incisions. One incision is made around the areola. Another runs vertically from the bottom edge of the areola to the crease underneath the breast. The third incision is horizontal beneath the breast and follows the natural curve of the breast crease.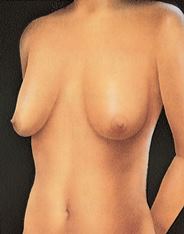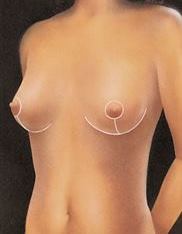 Left: "before" Right: "after breast lift" * from ASPS artwork
(*the real before-after photographs can be seen at the time of consultation)
After Dr. Robert Kure has removed excess breast skin, the nipple and areola are shifted to a higher position. The areola, which in a sagging breast may have been stretched, can be reduced in size. Skin that was formerly located above the areola is brought down and together beneath it to reshape the breast. The nipples and areolas remain attached to underlying mounds of tissue, and this usually allows for the preservation of sensation and the ability to breast-feed. All procedures are performed with anesthesia to minimize any discomfort or pain.
Dr. Robert Kure can help you to achieve your goals. For a breast lift in Tokyo Japan contact us today.
Other Procedures
Liposuction | Tummy Tuck Surgery – Abdominoplasty | Facelifts | Rhinoplasty | Eyelid Surgery | Asian Eyelids |