*choose your language*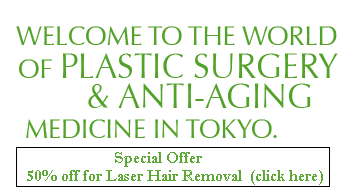 Plaza Clinic is the only clinic run by a US Board Certified Plastic Surgeon in Tokyo Japan
Plastic & Reconstructive Surgery and Cosmetic Dermatology
*If you need to refill Retin-A (Tretinoin), Obagi ZO series, etc., please contact us by an email. Home delivery service is now available.
Special Discounts
Special Offer
Special offer for Botox and laser hair removal (We have lowered the price for laser treatment!)
50% off for the first time Laser hair removal up to 2 areas (See Details for New Lower Price).
More than 15% off for Botox when more than 2 areas* are treated.
(*Definition of "one area" for Botox treatment – Forehead, Crow's feet (both sides), or Frown line area, and these discounts apply only to the above-mentioned regions.)(See Details for Botox discount price)

We offer walk-in services for Botox and Restylane treatment that can be done in just several minutes. Our goal is to prevent the ongoing aging process. Detailed anti-aging consultation can be made focusing on your daily lifestyle, supplements, chronic illness, and prevention from free radicals/ultraviolet.
Please mention this special offer when you make an appointment!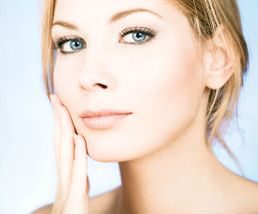 Facial Plastic Surgery and Cosmetic Surgery Procedures
Traditional plastic surgery procedures are done in an outpatient setting or in an affiliated medical center (located in Tokyo Japan). These procedures include liposuction, micro-fat injection, rhinoplasty, facelift surgery, facelifts, mini face lifts, eye surgery (blepharoplasty), non-cutting procedures for Asian eyes, breast augmentation, and more.
Many procedures are done as same-day surgeries. These treatments include laser treatments for pigmented lesions, unwanted hair growth, tattoo removal, laser lifting using Titan, Mesotherapy and IPL/Photofacial. These non-surgical treatments are available at our clinic in Hiroo, Tokyo. Plastic surgery in Tokyo Japan now available.
With plastic surgery in Tokyo Japan all procedures are done by a bilingual surgeon who is U.S. Board-Certified, and trained in both Japan and the United States. The chief plastic surgeon practiced in the U.S. for more than 18 years and completed the UCLA Chief Plastic Surgery Residency Programs. English is spoken.
This is the only plastic surgery clinic in Japan, owned and operated by U.S. Board-Certified plastic surgeon. For plastic surgery in Tokyo Japan contact Dr. Robert Kure today.
Dr. Robert Kure was the first Japanese plastic surgery resident to be selected as a chief resident in the history of UCLA. Since then he's treated many celebrities and athletes both in Japan and in the U.S. He has also completed a neurosurgery residency in the US prior to plastic surgery.
The doctor has more than 18 years of experience in the U.S., and now are available for consultation in Tokyo.
Anti-Aging Medicine and Plastic Surgery Procedures – services are now available in English.
Our goal is the prevention of the ongoing aging process. For that purpose, we offer:
Detailed consultation of your health status, supplements, and nutrition. Optional discussion about hormonal treatments.
Non-surgical treatment such as Botox, Restylane.
Traditional plastic surgical procedures.
Skin care and laser treatments
Second Opinion Consultation
Unhappy results from treatment/surgery elsewhere?
Provide pictures from before/after the procedures.
Bring operative reports if available.
You may e-mail your inquiry to info@plazaclinic.net prior to a formal consultation.
Our U.S. Board-Certified plastic surgeon will review and analyze your case, and give you a professional advice.
We are English-friendly clinic
All of our clinic staff speak English and our doctor is U.S. board-certified. Many of our patients are from abroad (outside of Japan). You can see the diversity of our patients in the map in the lobby of our clinic.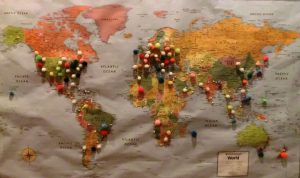 Health Insurance
For foreign insurance, we provide itemized invoices and other documents required by the insurance company.
For Japanese health insurance, certain cases are covered by the insurance. Please refer to the designated page.
Please ask us ahead since not all the cases are covered by the health insurance.